Creating your own baby clothes, personalizing them and making them fun is easy and fun with Cricut machine.
How to create your own baby clothes with a Cricut!
It's really popular to create your own baby clothes with a great saying or image. Great for personalizing baby gifts to say what you want.
I had no idea how these adorable onesies were made, but once I understood what you can do with a Cricut machine, it opened up a whole new world. This is how they are putting those cute personalized sayings on baby clothes!
---
ITEMS NEEDED TO COMPLETE THIS PROJECT –
---
I recently had two friends have babies and I really wanted to try my hand at creating fun and personalized baby clothes for them.
One mother had a set of twin boys, that was so much fun finding great ideas for them. You can see a few of the baby clothes I have made.
I bought the Onesies at Walmart. Just simple white one piece shirts with short sleeves will work well. I did buy a few long sleeve ones for a winter baby.

How To Create Your Own Baby Clothes – The Video
Here is the video I created on how I made the letters for the Super Dad baby outfit. The hardest part is choosing the font. But this will give you an idea of how to work with font and not be afraid to tackle it yourself.
How to Upload Fonts To Design Space
If you saw me use some fonts that you don't have, no worries. You can upload your own fonts to design space…for free.
I have a blog post called How To Upload Fonts of Design Space that will teach you how, step by step (no fear). I created both a video and wrote out the instructions to make it really easy to do on your own.
There are so many adorable FREE fonts, why wouldn't we use them?
Let Your Cricut Cutting Machine Cut Out Your Unique Design
This is the easiest step of all. Once you have your design completed and you love it, just put the HTV(shiny side down) on the Cricut mat, be sure to set your Cricut to "Iron On", and click "ok" in Design Space. Sit back and let your Cricut Cutting Machine do the rest.
MAKE SURE….if you have words in your design or want it to go a certain way, to MIRROR your image before cutting.
MIRROR MIRROR MIRROR…..did you hear me?
Once it's cut, carefully take it off the mat and then you will need to weed it before it's ready to be put on the onesie.
Take a look at my blog post What is Cricut Weeding? if you aren't familiar with Cricut weeding. I even have a video to show you how I do it.
How To Put Heat Transfer On T-Shirts
To finish this project you will need a great craft iron. I use the Cricut EasyPress, but if you don't have one, that's ok, you can use your household iron. Just be sure to press hard and go over it several times.
The Cricut Easy Press it has a timer, so get your timer out if you are using your household iron. I hold the craft iron on the shirt for 30 seconds and then I turn the project over and do it again on the back. Be sure you are giving the heat transfer enough time to grab or melt onto the onesie; if not, it may not survive its first wash.


Not sure what the Cricut Easy Press is? That's ok, check out my blog post review of the Cricut Easy Press.
Ok, once you have the heat transfer design on the onesie, you are done. That was easy, wasn't it?
Is your mind now whirling with more ideas of things you want to make with Heat Transfer Vinyl? I don't blame you; it's one of my favorite things to work with.
Ready Made Baby Outfits from Etsy
Just in case you not ready to try this project, here are a few that you can purchase. Etsy.com is full of great ideas for baby clothes.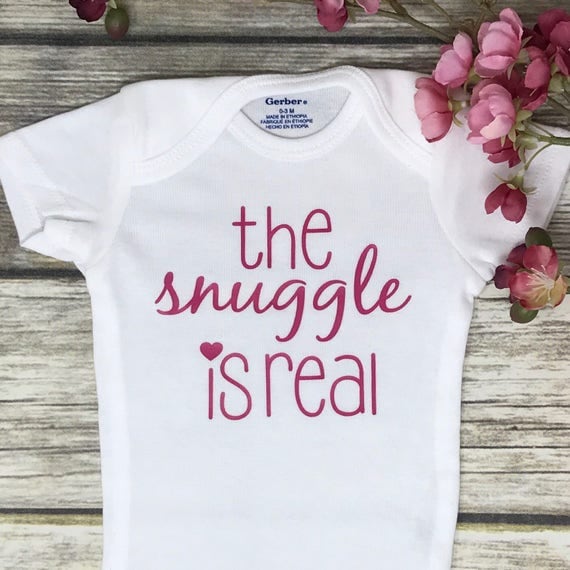 Snuggle Is Real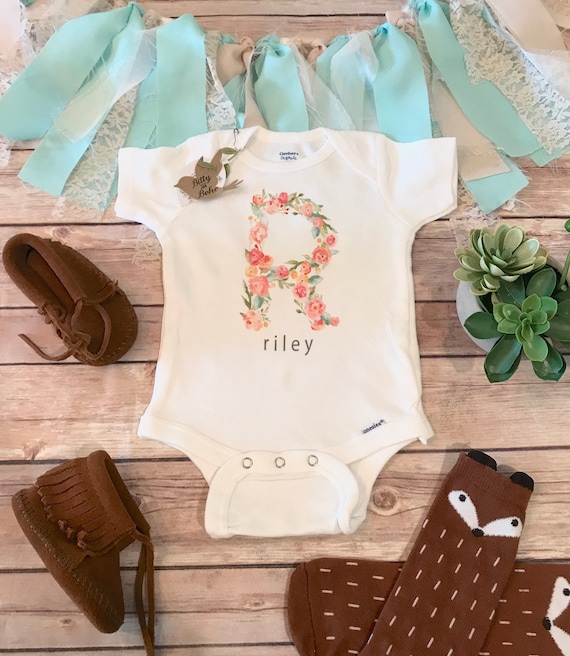 Name Onesie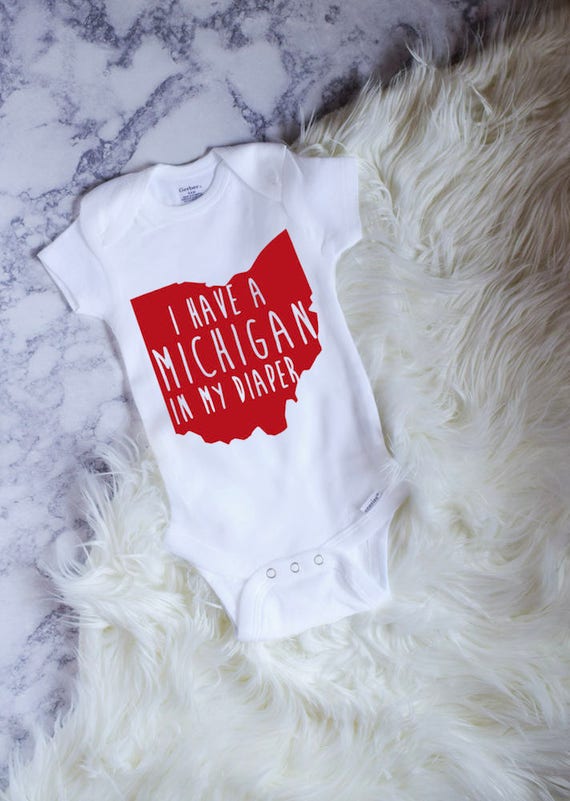 Michigan in Diaper

Related: Kids Road Trip Activity Bags
Happy Crafting!